Device Setup
InstaReg™
Perfint Healthcare's proprietary InstaReg™ Technology helps in fast and simple registration (docking) of the MAXIO® on either side of the CT table onto the stainless steel floor panel.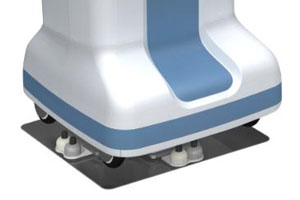 Pre-operative
MAXIO®'s powerful planning software provides 2D and 3D visualization of the affected region, and a wide range of tools to aid the development and execution of the plan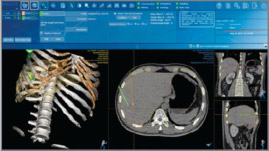 Planning & Verification
MAXIO®'s intuitive planning suite assists the clinician to segment VOIs, 3D visualization, multi probe and safe targeting
Intra-operative
MAXIO® allows clinicians to move seamlessly from planning to execution. With the click of a button, the arm moves into position for the clinician to advance the probes. Intra-operative registration allows verification of probe(s) placement prior to ablation

Post operative
Post-procedure images can be viewed, and compared to the plan or pre-operative images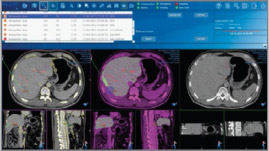 Targeting (Stereotactic Arm)
MAXIO®'s Stereotactic arm comes with a 5 DOF Axis (X, Y, Z, A & B) movement along with sub millimeter and sub degree accuracy.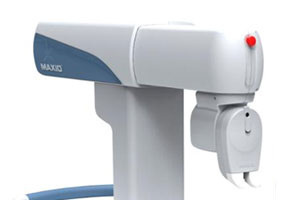 This ensures that procedures can be performed at different table heights; reach difficult lesions that require more angulations (Orbital, Cranio - Caudal Angulations) with special focus on patient demographics.
Disposables
MAXIO® uses sterile disposables that are safe and ensure economical procedures. The sterile disposables are:
a. End effector (Grippers) – These are grippers that are attached to the stereotactic arm and hold the bush in place for the needle to be inserted by the doctor
b. Needle Guide – These come in various gauges and are used as per the needle selected. The needle guide is held by the fingers and helps in guiding the needle during the manual insertion
c. Needle Stabilizer – The primary function of the needle stabilizer is to stabilise the needle during the check scans after insertion
d. Needle holder – The Needle holder helps hold the needle and the needle guide in place and do check scans half way during insertion
e. Drape – Provides sterility for the moving arm
Compatibility *
Works with DICOM 3 CT images
Supports RF, MW, IRE, Cryo ablation
Organ specific workflow packages for liver, lung & renal ablation
*Please speak to us to know how Robotic Guidance can be used to assist Ultrasound guided procedures